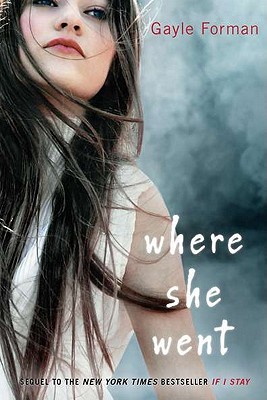 Where She Went
Genre:

Contemporary, Angst, Music
Goodreads Blurb:
It's been three years since Mia walked out of Adam's life.
And three years he's spent wondering why.
When their paths cross again in New York City, Adam and Mia are brought back together for one life-changing night.
Adam finally has the opportunity to ask Mia the questions that have been haunting him. But will a few hours in this magical city be enough to lay their past to rest, for good - or can you really have a second chance at first love?
Published/ing:

April 5, 2011 Dutton Juvenile
Spoiler Alert:

You want to have read the book.
Rating:

4/5

This book was a lot different than its counterpart. While If I Stay was a tragedy, but still light-hearted, this book was pure angst from the side character in If I Stay, Adam.

We start out the same way we did in If I Stay, in the present. But throughout the book Adam flashes back to after the coma. Mia's adjustments and how she persevered and played cello despite the piggy backing that she could've taken. She eventually goes to Julliard and becomes a huge cellist.

Adam, on the other hand, blew up in fame with his band Shooting Star. They traveled and did tours and produced platinum albums and lived the rock star life.

This book did not show the over-glamorized rock star life though, and that was probably one of my favorite aspects of the book.

Adam went through some serious internal conflict, dealing with depression, addiction, and suicidal thoughts. He didn't know what to do and didn't really want anything to do with life anymore. He didn't want to remember Mia or talk about Mia.

That is, until the night he watches her in Carnegie Hall.

That, in my opinion, was the climax of the book. He finds her, she finds him. She takes him on a journey, they fight, and then they find each other all over again.

And that what makes this duology an amazing story. The fact that they are two separate characters, totally separate people dealing with loss and depression and tragedy, who find each other and help each other through it.

They aren't perfect or happy all the time. They don't break up to break up. They go through their own shit and further help each other through their opposing shit.

Now that I've fully voiced my feelings on that, I'd like to completely spin off that topic and talk about the setting, New York. The spot for great, fantasy adventures and for aliens to destroy the earth and for cheesy briefcase love stories.

What I really enjoyed about this novel was the fact that it looked at New York under the microscope. They ran through the streets and took cabs and stood on a ferry. She minimized the great picture of New York to apply to the feelings of the book. I believe it added to the theme that things can seem so far apart, but still be very close together.

In summary, this book was very cool. It was realistic, without being boring. It continued with the last plot line, while creating a new one. I would definitely not suggest forgetting about this book after you read If I Stay.


If I Stay, the first book in the duology, has been recently turned into a major motion picture.